The
best dry shampoos
are total game-changers, and not only do they save your perfectly styled hair from a wash, they also soak up oil, add a bit of volume, leave you smelling fresh and are water-free. Using dry shampoo properly will help you simplify your beauty routine. However, not all dry shampoos are created equal. I decided to do some research, and have tried more than 20 different brands of dry shampoos over the past six months, so I could share these dry shampoo reviews and tips with you here. Read on to find out
which ones are the best and which ones to avoid
.
What is dry shampoo?
Dry shampoo is, in its essence, a dry substance that cleans and refreshes your hair without using water.
It works
by absorbing the oil from your hair, and making your hair feel and look freshly washed again. Generally, dry shampoos come in one of the three types — an aerosol spray, an actual powder or a liquid coming from a pump dispenser. In the spray type of dry shampoo, the ingredients are usually a mixture of absorbing agents, conditioning agents, fragrance, solvents and aerosol propellants. No matter which type you choose, it is important and necessary to pick one which is a close match to the color of your hair to prevent white residue leaving by dry shampoo. It's not meant to replace washing your hair with water regularly, but to use in a pinch or to serve as a means of extending the time between washes.
Try not to wash your hair as frequently
because the wet-to-dry process is a huge way to
damage your hair
. I choose to use dry shampoo because it helps my hair grow longer and stay healthy.
Advantages of Using dry shampoos
You're busy. Think of those mornings when you've hit snooze one too many times, then you wake up with hardly adequate time to pull on some clothes and jump out of the door to the office. For those times, dry shampoo is your essential beauty weapon to fight bad hair, and cut a step from your morning routine.
You're lazy. It's easier and faster to use compared to normal "wet" shampoo. Simply grab it, spray at the roots, let it sit for about 1 to 5 minutes and brush your hair through. So, you do not have to re-style or re-dry your hair. Now you can spend more time doing the things that you really need to do – such as sleep. 🙂
But you still care about quality. You are busy keeping up with your social life. So, do not waste your time in the bathroom, just use the little bottle of magic. Before all the other girls, get that perfect hair and your perfect guy. Dry shampoos will get you and your hair looking fabulous and ready for an evening out on the town.
Save time and save your hair. You don't really need to deeply wash your hair every day. Washing your hair daily strips essential oils, minerals, proteins and vitamins from your hair, which keep your hair hydrated and healthy. But you still need to clean your hair. That is where dry shampoo comes in. You can get rid of oily hair and keep your hair looking fresh and styled by using dry shampoo while retaining the oils your scalp needs at the same time.
How to use dry shampoo?
A blow dryer is not necessary. After using your dry shampoo, I highly recommend you brush your hair. That will make styling much easier. (
Read more…
)
Dry shampoo reviews — which ones are the best and which ones to avoid
Suave Professionals Keratin Infusion Dry Shampoo, 5 Ounce – Ok but I've found better…
My hair is long and pretty thick. It takes me 30 minutes, at least, to blow-dry my hair after showering. That is painful. And because of its length, the roots get oily long before the ends need washing. So I used to wash it to remove the oil every other day; otherwise it looked gross. After reading several positive reviews, I tried this Suave dry shampoo. It's super cheap ($3.69, $0.74/fluid ounce) and works great! I just hit my hair in the oily spots with some of this in the morning, and it takes me only 5 minutes to have fresh looking and smelling hair with nice volume. The most common complaint about this dry shampoo is its strong smell, which is possible due to the Keratin infused in it. This dry shampoo is actually the first one I ever tried. I'd give it a 3.5 star rating. It's Okay, but I've found better….
Batiste Dry Shampoo, Cherry, 6.73 Ounce  — My Favorite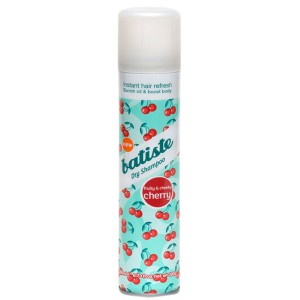 This dry shampoo is my favorite one I've tried so far. I love the cherry scent and use it on my brown hair without worrying about how the dry shampoo dulling and affecting the color. It is cheap (about $0.89/fluid ounce) and works amazingly. This little bottle of magic would still work even if I didn't wash my Hair for ten days. Well, in order to get all the oily-ness out, I might have to handle my hair with an entire can of dry shampoo. It is also excellent for adding a bit of volume, and for longer in between washes, my hair has never looked better. Be sure to spray 8 inches (about 20 centimeters) away from the scalp, and you are good. I find that it can leave a white residue if I spray too close to the scalp. There were some minor complaints about its strong smell from some of my girlfriends. But for me, personally, I love the fruity scent, and I give this Batiste dry shampoo an overall 5 star rating.
 Dove Invigorating Dry Shampoo, 5 Ounce  — Decent scent and does its job
I love its light scent, and it works wonder on my hair. You can use it on day 2 or even day 3 after
shampooing
, and it gives you that freshly washed feel. However, this product does have a reputation of being used up after just a few times or, easily clogging. The reason it goes "empty" is that the nozzle gets stuck and releases all the air. Make sure that you don't hear any air being released before replacing the cap (just put the nozzle up to your ear, pull up on it a little, and make sure you don't hear any air release sound). Generally, a bottle could last you about a week using it daily. Dove has updated the spray nozzle recently, and it works fabulously! So give this Dove invigorating dry shampoo a 4 star rating.
TRESemme fresh start dry shampoo  – No way!
This is the worst dry shampoo I've ever tried. It leaves my hair feeling greasy, stiff and dirty. It takes me a long time to brush all the white out. I guess the good things are that it's available at most stores and really cheap. So 1 star.
Not Your Mother's Clean Freak Refreshing Dry Shampoo, 7 oz  – worth a try

After the Tresemme dry shampoo failed on me, I decided to venture out to some small brands. I saw this NYM's dry shampoo at my fave local drugstore and figured at about $6 it's worth a try. When I used this, I was totally amazed! It left my hair feeling, smelling and looking clean. It removed excess oils and added instant volume. The only problem is that sometimes it can leave a little bit of residue in your hair. Just be sure to spray this dry shampoo from at least 8 inches away and brush it out in time. For me, the benefits outweigh the faults. I would definitely recommend this and give this a 4 star rating.
Klorane Gentle Dry Shampoo with Oat Milk  – Great stuff from Australia
As you can probably tell by now, I'm a huge fan of dry shampoos and have tried many, both bad and good. This Klorane dry shampoo is maybe not the best but definitely one of the good ones. The smell is nice and light. It is excellent for combating oil. It helps my hair hold a style better and adds extra body. My only issue about it is it does leave some residue on my brown hair. Although I can brush it out, it takes a while. So, a 4.5 star rating is my final verdict.
Psssssst Instant Dry Shampoo 5.3 Oz  –Great for a quick lift
The first time I used this dry shampoo I was impressed immediately with the instant volume achieved by it. I was impressed equally with the way it's able to tame the wild bed head that I experience every day. Its only con is that, after the 2nd day in a row of using it, it does make my scalp a little itchy. But nothing too bad. I give it a 4 star rating.
Baby Powder  – As a backup
Most everyone has some baby powder that lies around the house. You can use it as a backup. The pros are that it's super cheap, widely available and it does work. But besides that, it smells like a baby's bum, leaves a white residue really easily and is hard to apply. The awkward part is that people recognize the smell of baby powder and have asked me about it before.
Some other dry shampoos I reviewed but would not recommend:
Oscar Blandi Pronto dry shampoo spray: a relatively high price, overpowering smell and dandruff-like residue.
Got 2B Rockin' It Dry Shampoo: doesn't last through the day and weighs hair down.
Redken Powder Refresh: Pricey and doesn't work
Aveeno Active Naturals Pure Renewal Dry Shampoo: leaves a film.
GOSH dry shampoo: matted kind of look, sticky feel underneath.
Please feel free to contact us, if you want to share more about a specific product.
What is the best dry shampoo for your hair?
Choose a dry shampoo that's designed for your specific hair type. While some dry shampoos are made for oily or dry hair, others are created for curly or straight types. Choose a gentle one
if you have color treated hair
. Choose a dry shampoo that will not leave your hair powdery and sticky if you prefer the powdered type rather than the aerosol one. Be aware that, in many of the aerosol products, certain chemicals are used. If that concerns you, consider
an all-natural dry shampoo
. If you decide to purchase the salon products, choose dry shampoos that are formulated with vitamin E to strengthen and nourish your hair. If you choose a dry shampoo with dandruff control, be sure that the excess ingredients do not weigh your hair down. So read the label carefully. You may choose dry shampoos that are fragrance free or scented. The former may be recommended for allergy sufferers.
Making your own homemade dry shampoo
is another great option if you are tired of the costly dry shampoos on the market. Ingredients like cornstarch can help absorb oils and give your hair a fresh looking. After applying the cornstarch, be sure to brush through your hair thoroughly. If you are not sure
what is the best dry shampoo for your hair
, please read our latest
reviews
and
tips
. However,
don't believe what I say, try it!